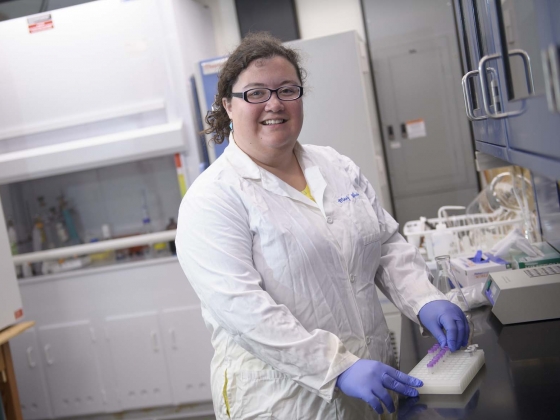 MSU doctoral student Melody Lindsay has received a scholarship to study how the changing salinity of Great Salt Lake affects the microorganisms in the lake and the lifeforms that depend on them as food sources. MSU photo by Kelly Gorham.
BOZEMAN – A Montana State University doctoral student has won a prestigious scholarship for her research proposal on how changing salt levels in Utah's Great Salt Lake are likely to affect the stability of the ecosystem, including the health of the nearly 5 million birds that pass through the ecosystem each year.
Melody Lindsay received the Doyle W. Stephens Scholarship Award from FRIENDS of Great Salt Lake, an organization that works to protect Utah's Great Salt Lake ecosystem and increase public awareness and appreciation of the lake through education, research, advocacy and the arts.
This is the first time since its inception in 2003 that the scholarship has been awarded to someone outside of the state of Utah, according to the FRIENDS website.
"I truly enjoy working to better understand the Great Salt Lake ecosystem and am grateful to be able to continue this research," said Lindsay, a fourth-year doctoral student in the MSU Department of Microbiology and Immunology in the College of Agriculture and the College of Letters and Science. "Additionally, I'm glad that our research in the lake is being recognized and is receiving support and attention through this scholarship."
Lindsay received the scholarship at a reception held May 18, at Westminster College in Salt Lake City. She said she is honored to have been chosen for the scholarship, which each year is given to a graduate or undergraduate student engaged in new or ongoing research that focuses on Great Salt Lake and/or the lake ecosystem or watershed. She will use the $1,000 award to cover travel expenses between Great Salt Lake and MSU and on lab supplies she needs to conduct her research.
"The lake is an important and vital part of the greater Great Salt Lake ecosystem, as well as the much larger area of the Western Hemisphere Shorebird Reserve Network, and our research investigates the microbiology which forms the base of this complex ecosystem," Lindsay said.
Lindsay's winning research proposal will detail how the changing salinity of Great Salt Lake affects the composition and productivity of the microbialites that cover about 20 percent of the lake floor, and how that in turn affects the life forms further up in the ecosystem's food web. Microbialites are carbonate-mineral structures that are built through the activity of microorganisms that obtain energy from light.
"These microbialites are a major source of food for brine flies and brine shrimp (also known colloquially as sea monkeys), which serve as the major food source for the millions of birds that visit Great Salt Lake annually," Lindsay said. "Moreover, a healthy brine shrimp population is economically important for the brine shrimp industry."
Lindsay conducts research in MSU's GeoBiology Lab under the guidance of Eric Boyd, assistant professor of microbiology and immunology. In Boyd's lab, her primary research is focused on thermophiles – organisms that thrive at temperatures between 41 and 93 degrees Celsius -- in the hot springs of Yellowstone National Park. Her work on the microbialites of Great Salt Lake developed as part of a graduate class project at MSU.
Before coming to MSU, Lindsay, who grew up in Honolulu, Hawaii, the daughter of a physicist and a musician, earned her bachelor's degree in ecology and evolutionary biology from Princeton University. A professional harpist as well as a scientist, Lindsay attended Princeton with a $50,000 fellowship from the Davidson Institute for Talent Development. Saying science won out over music, she nevertheless continues to play the harp for the Great Falls and Billings symphonies and occasionally plays a small harp while in Yellowstone for fieldwork. She has performed on NPR, her first time at age 13.
Lindsay said she decided to come to MSU after meeting Boyd at an American Geophysical Union conference where she presented her undergraduate research on microbial life almost two miles below the surface of Earth in the gold, diamond and platinum mines of South Africa.
"I came to MSU because of the research Eric is doing, which is amazing," Lindsay said.
Boyd said he and Lindsay share similar interests, in particular a shared focus on life that is supported by mineral forms of energy.
"Melody continues to amaze me by her level of productivity on a diversity of projects, including those in Great Salt Lake as well as in Yellowstone," Boyd said. "It takes the right type of person to balance these research interests, and I believe it is her unique combination of enthusiasm, creativity, optimism and organization that allows her to be so effective in her studies.
"Melody is the type of student that every adviser is looking for, and one that I foresee having a significant impact on the geobiology field as she progresses through her career," he said.
In December, Lindsay was awarded the Beverly Ferguson Graduate Student award, which is given annually to a graduate student in MSU's Department of Microbiology and Immunology who demonstrates excellence in research and academics.
Also in 2016, Lindsay won a NASA fellowship to support her research on mineral-supported microbial life that inhabit hot springs in Yellowstone National Park and was lead author of a scientific paper published in the journal Geobiology. The paper was the culmination of research conducted in one semester by 10 MSU graduate students who took a course last fall from Boyd and MSU Earth Sciences Professor David Lageson.
She was also one of 20 U.S. college students selected to attend the 2016 International Summer School in Astrobiology in Spain, an experience that gave her the opportunity to learn from some of the world's leading experts in astrobiology. Astrobiology is a field that focuses on the origin, evolution, and future of life in the universe.
After earning her doctorate, Lindsay said she hopes to stay in academia and focus on research.
"My current research projects in both the Great Salt Lake and Yellowstone have implications for astrobiology, life on early Earth and the search for life beyond Earth," she said. "While I'm not quite sure where exactly I'd like to go right after I graduate, I hope to stay in the same lines of research."